My folks are in town for the Thanksgiving holiday. Last night my mom and I were talking about her high school and old friends connecting on facebook. I was retelling the story of how I met an alum of Beaver Falls High School at a mutual friend's book signing party. It turned out that the alum was in band with my aunt (my mom's sister-in-law) in the mid-1960s.
As I was recounting the conversation with the alum it was basically:
Me:
So, what team did you root for when you were younger?
Alum:
The Pirates.
Me:
Were they the hometown team or did you just like them?
Alum:
Hometown. I grew up in western Pennsylvania.
Me:
Really? Where.
Alum:
You've never heard of it. Beaver Falls.
Me:
Yeah, that's where Joe Namath went to high school. The Tigers.
Alum
(with a surprised look on his face)
:
Yeah, that's right.
Me:
My mom, aunt and uncles attended BHS.
As I was telling it to my mom, she interrupted and replaced "Joe Namath" with "Joe Walton". "He was my chemistry partner." I thought that she said "Bill Walton" and shook my head.
I had heard the name of Joe Walton, but couldn't quite place it. Joe Walton played football at Pitt and then was drafted in the second round by the Washington Redskins in 1957. He played for them from 1957-1960 and then for the New York Giants from 1961-1963. Later in his career he was the offensive coordinator for the Giants, Redskins, Jets, and Steelers. Oh, and he was the head coach for the New York Jets from 1983-1989, finishing up with a 53-57-1 record.
I've got a new player/coach to collect.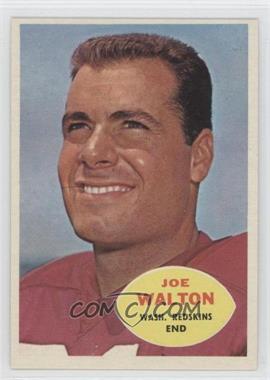 1960 Topps
Joe Walton (card # 127)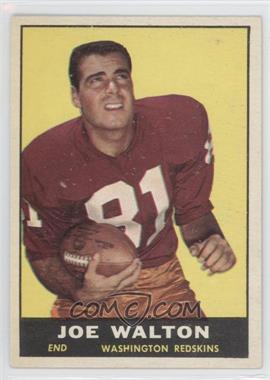 1961 Topps
Joe Walton (card # 126)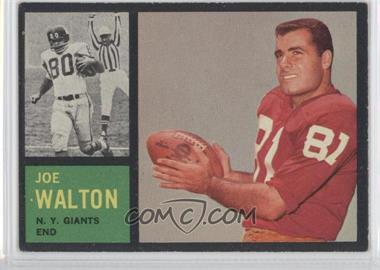 1962 Topps
Joe Walton (card # 103)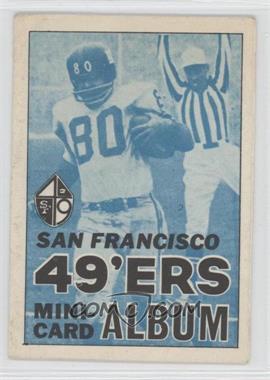 1969 Topps Mini-Album Inserts
San Francisco 49'ers (card # 15)
I'm a bit confused about the 1969 Topps Mini-Album Insert card. Clearly Topps reused the image from the 1962 card. I don't know why.
Some of Joe's other cards are:
1961 Fleer (card # 112)
1961 Fleer Wallet Pictures ( card # 145)
1964 Coke Caps Giants (cap # 35)
1989 Pittsburgh Greats (card # 11)
1989 Pro Set (card # 311)
Currently Joe just finished his 19th year as head coach of the
Robert Memorial University Colonials
.