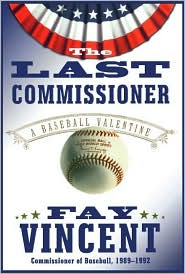 The Last Commissioner is the title of a 2002 book by Fay Vincent.
The book is a delight to read. Mr. Vincent splits up the chapters, telling a story and then providing a list of favorites. Yankees, Fenway moments, Guardians of the Game. The story chapters are typical, but unique to him. Life story, growing up, very foundational. Then comes his introduction to Bart Giamatti. Their friendship and work load. Pete Rose and Bart's death. George Steinbrenner. It is all there. It is a fairly easy read, but Mr. Vincent (or his editors) don't take the time to clean up the language. This is not a bedtime story to be read to Lucy.
I haven't finished the book, but I'm about 80 % of the way there. I'm really curious what his take on being run out of the office will be. I think I know.
Mr. Vincent doesn't pull many punches. He likes the umpires. He's not too keen on a few owners or the current commissioner. Or the way that the Steve Howe issue ended up.
In the list of Yankees he writes of Tommy Henrich
(page 207)
:
I know his true age.

The Baseball Encyclopedia

lists his birthdate as February 20, 1913; in actual fact, he's three years older than that. "When I signed," he said, "I took three years off my age. It was better to be eighteen than twenty-one." When means when he played his final game in 1950, he was forty.
Baseball-Reference
lists him as being born in 1913.
Baseball Almanac
says 1913.
Wikipedia
also uses that date (but can you really trust them?).
But wait. The ever so accurate
TV.com
sides with Mr. Vincent.
Now my brain is in a tizzy.
When in doubt, go back to the original sources. According to US Census images from Ancestry.com, we see that a young Thomas D. Henrich was age 6 in 1920. He was living with his folks, Eda and Elizabeth Henrich in Massillon, Stark County, Ohio. You can find young Tommy on line 33.
Many times in the census records, you will find a person 'fudge' their age. Every decade they will only age nine years. Call it vanity, longing for youth, failing minds. But a six year old doesn't do that. Or his mom or dad on his behalf.
"Eda, you think little Tommy might make it in the big leagues?"




"Well, you know 'Liz, maybe. Hey, when that census taker, or any rev'nuer comes around asking questions, shave off a few years from his age. You never know, it might work out for him."
Here's the
book page
from the publisher, Simon and Schuster. You can see the table of contents and read the first chapter.
And here's a 2003 Upper Deck Play Ball card of Tommy Henrich. Card # R-5. The cards from this set are reprints of the 1941 Play Ball cards.
This lists his birthdate as 1916.
You figure it out.